Advice Center
Help Making Wise Colour Choices
The internet has a wealth of tools and pictures to help you understand what you want and reduce the obvious anxiety you feel about how all your selections will come together. Benjamin Moore offer some great advice on selecting paint colors.
We all can see what we don't like very quickly. Knowing what we really want can take some time. To help you get there faster, the Houzz website has over 3 million high quality photo's for you to investigate. Search by room and style to narrow the results and I suggest you register on the site so you can save the pictures you like into an online library stored right on the Houzz website. You can make notes against each photo so you remember what you liked about the photo and you can even create multiple library's (called Idea Books) and name them for example door style or counter colour. Better still, you can share your Ideabooks with your cabinet designer, interior designer and friends and family, all from the comfort of your Computer or Tablet. Of course, there is a Houzz app so you can take the information with you.
Choosing a Door Style
Check out this door builder where you can build your door profile and then email it to me. Choose stile & rail width along with inside and outside edge profile, then decide on flat or raised center panel and finally pick a species and colour.

Kitchen Accessories
You want a kitchen that looks stunning but the function of your new kitchen is just as important. Here are some simple accessories to ensure you have a home for everything.
Pantry Roll-out Shelves
Pantry Pull-out Chrome Shelves
Pull-out Double Waste Bin
Pull-out Garbage with Compost Container
Single Pull-out Garbage/Recycle Bin
Door Mounted Garbage
Single Knife Block with Utensil Divider
Pull-out Shelves
Pull-Out Spice Rack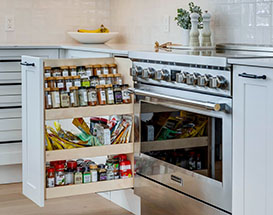 Spice Rack (Door Mounted)
Drawer Spice Rack
Cookie Sheet / Cutting Board Storage (Wire)
Wood Double Knife Block
Drawer Dividers
Utensil Divider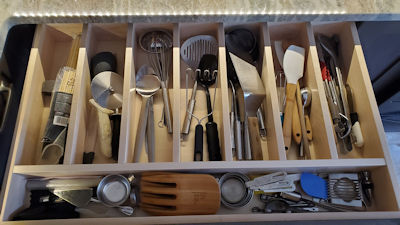 Plastic Cutley Insert
Wood Cutley Insert
Lazy Susan - Wood Super Susan
Magic Corner
LeMans Corner
Corner Drawer Unit
File Drawer
Don't Be Afraid To Remove Your Corner Pantry
A corner pantry can break up the flow of your kitchen and take away valuable space from your room. The picture below shows how the removal of your pantry can transform your space and provide better, more functional storage options as well as making your kitchen look and feel bigger.
Which Hood Fan Is Right For You?
Professional Hood Fan
A professional hood fan is a workhorse, built to extract the cooking fumes from a busy chef's kitchen. If your range or cook top has more BTU's than the space shuttle then this is for you. You may want the look more than the pure grunt of the fan, looks can be deceiving so you may just want to look like you taught Ramsay his trade even if sweet mandarin salt & pepper squid is not your speciality. These hoods look and feel like they belong in a professional kitchen and most have very powerful fans so be sure to check with your renovator/supplier to see if you need make up air installed to meet local building code. (TIP – A Vent-A-Hood range hood comes with a special type of fan called a magic lung that has increased efficiency meaning a 300cfm fan runs with as much power as a 450 cfm fan). Most major appliance manufactures offer these kind of hoods, here are just a few to look at for further ideas. Vent-A-Hood, Wolf, GE Monogram, Broan
Over The Range Hood (OTR)
The combination of a hood fan and microwave is a perfect solution when space is at a premium. This allows a microwave to be positioned where nothing else other than a fan would be located and the built-in fan is normally adequate for the everyday kitchen. These can be vented to the outside or set to re-circulate the air back into the kitchen through the appliances built in charcoal filter which removes some of the cooking smells from the air. The appliance does reduce the headroom over your cooking platform so if you use tall pots be warned that your access will be somewhat restricted. OTR's as they are known are very popular and inexpensive. They don't always look the best so shop around to find one that is attractive as much as it is functional.
Handcrafted Copper Hood
The use of a copper range hood, without any sort of visual clue, would lead most people to assume it would be of a classical, traditional appearance. However, that does not necessarily have to be the case. This kitchen features shaker style cabinetry with an applied moulding in a darker tone on Maple, a style that is very popular indeed. The copper hood sets the kitchen apart, giving the room an individual style and obvious flair. It also raises the kerb appeal of the property for sure. It is a bold decision to go away from the norm but the rewards are there to be seen and you will certainly want to show it off. Copper hoods are typically sourced from a local fabricator and a quick search on the internet should deliver you some suppliers. These hoods can be custom designed to fit the size and style you want or you can select from numerous 'standard' models.
Chimney Hood
Typically used in a modern/contemporary setting, the chimney hood offers a dramatic feature in the kitchen. The hood fan makes a bold style statement as it sits in its own space, occupying centre stage over the cooking hub. From the simple stainless steel triangular shape units most commonly seen to the over-sized industrial looking beast as shown here, there are plenty to choose from. Price can vary from the mid hundred's of $ to, well let's just say it with $$$$. This type of hood adds a European feel to your kitchen and most appliance manufacturers produce this style of fan. Be careful again with this type of hood fan, they are commonly rated for high CFM values which can mean expensive alterations to your furnace with a make up air addition. Some chimney hoods can re-circulate the air but most will require the venting to go to the outside so consider your exhaust route when planning this kind of installation.
Wood Hood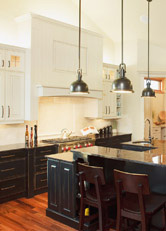 A wood hood say's character, be that traditional or contemporary. With a vast range of styles and customization options the look and feel of your hood can be designed to fit your taste. A wood hood integrates superbly with the rest of your kitchen cabinetry and the look is exquisite. There are multiple opportunities for a wood hood to break code due to building code requirements so make sure your designer knows the limitations before getting carried away with the design.
Integrated Fan
This type of fan is fairly new in the North American market. It is designed to be compact and hidden from view when closed with a cabinet door applied to it's front face. To use, just pull the front of the unit towards you and the fan grill becomes visible from the bottom and it starts to function. This is smart little unit that is suited to the clean and simple lines of a contemporary kitchen. The fan is available from Miele.
Standard Hood Fan
This is the most basic of hood fans. Models are available in an external venting or re-circulating air configuration.
Downdraft Ventilation
Sometimes there is a need to vent cooking fumes downwards as no other venting solution will work. A downdraft unit sucks air downwards and through ducting to the outside. Downdraft units can be integrated into ranges or cook tops or supplied as a separate unit for installation behind the cooking appliance. Do consider where the ducting will run and note the appliance is normally rated at 600 cfm or more.